Improve your engines performance and durability with tough, superior quality connecting rods from Molnar Rods .com!
On land or water, pavement, dirt or mud, modern motorsports and powersports enthusiast are putting higher demands on their engines than ever before. If an internal combustion engine is involved, there is probably some type of competition event available to test your vehicle as you push to improve its performance and reliability. Molnar Technologies connecting rods provide an extremely strong and reliable link between your pistons and crankshaft. These piston rods can be used in vintage restored muscle cars, high performance street cars, drag racing, oval track, road racing, drifting, off road racing, mud bog, pulling vehicles and more.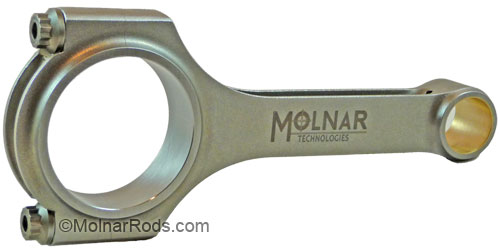 H Beam Molnar Rods
Our huge selection of 4340 billet steel H-beam connecting rods from Molnar Technologies covers everything from 3 cylinder SeaDoo jet ski engines to V10 Viper engines and most every popular performance engine in between, and all at reasonable prices. Included in our line up are rods for use in normally aspirated engines, turbo and supercharged engines, NOS boosted engines as well as stock stroke and stroker configurations.
Do not risk losing your next race, or damaging your engine by running stock or inferior aftermarket rods. Shop now and buy today to take advantage of our discounted prices and fast shipping and step up to premium Molnar Technologies rods.
Different Applications Require Different Connecting Rod Designs
Every application is different, which is one of the reasons we have so many different piston rod choices available. It is important to choose the right rod when considering the many forces created by factors such as engine displacement, crank stroke, con rod length, piston speed, compression, horsepower, boost, nitrous, and the type of racing you are involved in. All of these factors are important to consider when choosing a rod.
In addition to standard weight class rods, we have extra heavy duty models for extreme boost and nitrous applications, as well as extra lightweight models for use in limited or restricted racing classes. If you need assistance, please do not hesitate to contact us and we will be happy to help.
Molnar Power Adder Rods
One
example of a new design for specific applications is the Molnar power adder rods series. As more and more performance enthusiast and racers use turbochargers, superchargers and nitrous with their engines the demands for heavier duty rods for those applications has become greater. The PWR ADR™ rods feature additional strength to handle these higher output engines without adding additional mass in areas that do not contribute to a stronger more durable rod.
Molnar Power Adder Plus Rods
You asked for it and Molnar Technologies responded by delivering a line of extreme duty connecting rods. The number of people building extremely high output engines these days using very high boost superchargers, large displacement very high boost twin turbo set ups and very large NOS shots created the need for even stronger rods for certain applications.
Stroker Engines
When installing a stroker crank there are sometimes clearance issues due to the longer moving the rods closer to the oil pan rail and the bottom of the cylinders and also the camshaft in some engine blocks. To improve clearance many Molnar stroker cranks use smaller diameter con rod journals. This makes the external dimensions on the rods smaller which increases clearance and makes fitting stroker cranks into engine blocks far easier.
Small Journal Rod Sets
One of the more recent trends in racing cranks and rods is the use of smaller crankshaft rod journal diameters. Modern materials and designs allow the use of decreased rod pin diameters while still maintaining strength. In addition to decreasing rotating assembly weight this also reduces bearing surface speed, friction and windage losses all of which provided increases in torque and horsepower. In our product listing you will find several piston rod sets that are made to work with small journal diameters.

About The Manufacturer Molnar Technologies Rods
Tom Molnar, the owner and driving force behind Molnar Technologies, has proven himself time and again to be one of the premier connecting rod designers in the performance and racing parts aftermarket. Molnar rods provide you with high quality performance engine products at affordable prices. In addition to great products, with Molnar Technologies racing parts you get superior customer service and tech support. Molnar is constantly striving to advance the state of the art in performance engine rod technology.
Molnar connecting rods are the result of continued refinement of the H beam rod design. The Molnar engineering staff has 30 years of hands on experience in designing, engineering and manufacturing the best connecting rods for high performance and racing engines. This wealth of experience is an important factor in designing con rods which provide lightweight while delivering proven reliability at higher rpms by removing weight from non-critical areas but retaining material in areas that are the most important for strength and durability for the application.
4340 Steel Billet Molnar Connecting Rods
Molnar Technologies steel H-beam connecting rods are manufactured from 4340 billet steel material and heat treated to provide increased tensile strength. The con rods are then shot peened to further improve durability and increase fatigue life. Except for a few specialty press fit rods, Molnar Technologies rods all include high quality bronze bushings, precision machined, for use with floating wrist pin type pistons. With Molnar rod sets there is no extra charge to step up to ARP2000 hardware which provide superior clamping force, as they come standard in every piston rod set along with lube and installation instructions.
All Molnar piston rods are finished in the United States at the Molnar Technologies shop in Michigan. Critical rod dimensions are are held to very precise tolerances of +/- .0001 of an inch, which is the tightest tolerance you will find in the performance and racing aftermarket. Close examination of these rods will make evident the pride in workmanship and the obsessive attention to detail that are common in all Molnar performance parts.
We are proud to be an authorized dealer for the entire line of Molnar Technologies high performance engine parts. We sell the best connecting rods and crankshafts available from Molnar's line of performance and racing engine rotating assembly components.
Product Availability
We have Molnar Rods available for the following engines and are constantly adding new models so check back often.
Domestic V6 and V8 Con Rod Sets
AMC
Buick
Chevy
Chrysler Dodge Plymouth Mopar
Ford Mercury
General Motors
Pontiac
Sport Compact Engine Rods
Acura
Audi
BMW
Chevrolet
Fiat Chrysler
Ford
GM
Honda
Hyundai
Mazda
Mitsubishi
Nissan
Opel
Porsche
Subaru
Suzuki
Toyota
Volkswagen
Motorcycle
Powersports Vehicles

Molnar Crankshafts
Looking to upgrade to a stronger crankshaft also? We sell the complete line of forged steel Molnar crankshafts. Pair up your new rods with a top quality Molnar Technologies crank and you have the foundation for a very strong rotating assembly. Check our great deals on stock stroke and stroker cranks!
---
This website is an independently owned and operated web property belonging to Motorsports Parts Corporation, who is an authorized dealer for ©Molnar Technologies products. This site is not owned, operated by, or under the direct control of ©Molnar Technologies.