We have a huge variety of Molnar rods available to cover many different applications. New products and part numbers are being added constantly. If you do not find rods for your engine with the specifications you require, please do not hesitate to contact us and we will be happy to help you.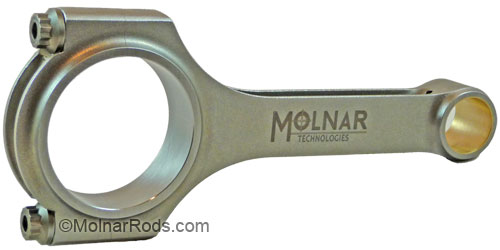 Molnar Connecting Rods Catalog Index
Click on the links below to view the available piston rods for your engine.
USA Domestic V6 and V8 ConRod Sets
AMC
AMC American Motors Corporation AMC 390 401 and Stroker Engine Rods
Buick
Buick Big Block 400 430 455 and Stroker Engines
Chevrolet
Chevy Vortec 4200 DOHC 6 Cylinder
Chevy Small Block Includes standard, mid weight, lightweight, small journal and honda journal sbc rods
Molnar LS Rods for GM and Chevy LS series engines
Chrysler Dodge Plymouth Mopar
Small Block Mopar includes 273 318 340 360 5.2 Magnum and 5.9 Magnum
Big Block Mopar and 426 Hemi Gen2
Ford and Mercury
FE series includes 390 406 410 427 and 428
GM
Oldsmobile
Pontiac
Sport Compact Engine Rods
Acura
Audi
BMW
BMW All BMW Engine Rods
Dodge
Neon SRT4 PT Cruiser 2.4L DOHC
Fiat / Chrysler
Ford
GM
Honda
K20a Lightweight and Turbo Rods
K24 Turbo and Lightweight Rods
Hyundai
Mazda
2.3 Duratec (Ford / Mazda, not for Speed 3)
Mitsubishi
Nissan
VG30DETT Rods includes VG30DE and VG30DET
Opel
Porsche
Subaru
EJ25 Includes rods for EJ25 Turbo and Non-Turbo engines
Suzuki
Toyota
Volkswagen
Powersports Vehicles
Jet Skis
Seadoo
Yamaha
Motorcycle
---
Information regarding horsepower ratings can be found here: Molnar rods hp rating