Molnar Power Adder Plus rods, the newest addition to the constantly expanding line of superior high performance and racing connecting rods from Molnar Technologies. These extreme duty 4340 steel billet H beam rods are available for many different engines and several popular lengths.
The standard series of Molnar connecting rods are extremely strong and durable parts but with more and more people using power adders the demand for even stronger rotating assembly components continues to evolve. Molnar developed the PWR ADR PLUS™ specifically for use in extremely high boost supercharged and twin turbo engines as well as those using very large nitrous systems.
Currently available Molnar Technologies Power Adder Plus rods are listed in the table below.. If you do not see rods with the specifications you need for your project please do not hesitate to contact us as new products and part numbers are constantly being added to the product line.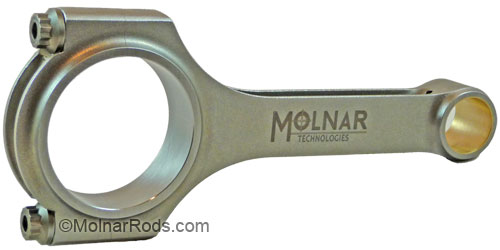 Molnar Power Adder Plus Rod specs listed in the below tables:
Length Length of the connecting rod, as measured center to center, in inches.
Wt Weight in grams, of one complete connecting rod assembly
Desc Additional information about specific applications
Jrnl Crank rod journal diameter
Pin Size Piston pin diameter, in inches or millimeters
BE Width of the crankshaft end of one rod
PE Width of the piston end of one rod
Bolts Rods come with 7/16" diameter ARP2000 fasteners installed unless noted otherwise in the individual listing
Part Number Molnar Technologies Connect Rod set part number
Price The price shown is for a complete set of rods for the engine
Molnar Power Adder Plus LS Rods

The rods listed here are for use in the GM and Chevy LS series engines. Please check dimensions to insure you select the correct rod set for your application. If you need assistance please do not hesitate to contact us for help.

Part Number
Length
Wt
Desc
Jrnl
Pin
BE
PE

LS Molnar Power Adder Plus Connecting Rods

CH6125NLB-LSP+8-A

6.125
737

Chevy LS PWR ADR Plus™

For extreme high output engines

2.100
0.927
0.940
1.010

CH6200NLB-LSP+8-A

6.200
757

Chevy LS PWR ADR Plus™ Series 6.200

For extreme high output engines

2.100
0.927
0.940
1.010
Molnar Power Adder Plus BBC Rods

For use in Big Block Chevy engines, stock stroke and stroker using a crankshaft with a 2.200 rod journal size. Also for use in some other make engines using aftermarket crankshaft designed to work with big block Chevy connecting rods.

Big Block Chevy Molnar PWR ADR Plus Connecting Rods | Standard Journal Size

Part Number
Length
Wt
Desc
Jrnl
Pin
BE
PE

CH6385VTB-P+8-A

6.385
857

2.200
.990
0.992
1.125

CH6480VTB-P+8-A

6.480
863
2.200
.990
0.992
1.125

CH6535VTB-P+8-A

6.535
866
2.200
.990
0.992
1.125

CH6700VTB-P+8-A

6.700
875
2.200
.990
0.992
1.125

CH6800VTB-P+8-A

6.800
881

2.200
.990
0.992
1.125

CH7000VTB-P+8-A

7.000
899

2.200
.990
0.992
1.125
Molnar Power Adder Plus Rods HP Rating
Molnar power adder plus connecting rods are not advertised as being for any set horsepower range as there is no simple way to put a horsepower rating on an engine rod as there are many more factors involved in with the stress a rod experiences in a high performance engine. Many places will put a horsepower number up with their rods but it is more of a rough guideline and some marketing thrown in as places know many people will ask for a "hp rating".
These Molnar Technologies PWR ADR Plus™ series rods are specifically engineered for use in very high output engines and are targets to those using superchargers or turbochargers with high boost levels as well as very large nitrous shot engines. There are many factors to consider when choosing a connecting rod for your project engine. In addition to boost or nitrous use and levels details such as the weight of the piston assembly, max rpm, crankshaft stroke length, intended use of the vehicle and more all factor into the required rod parameters.
There is more info on this subject from Tom Molnar, the owner of Molnar Technologies on this page of our website: Molnar rods hp rating
If you would like assistance with choosing the best rod for your application feel free to contact us for assistance.