We have a large assortment of Mopar Chrysler Dodge Gen 3 Hemi crankshaft models to choose from. We sell NHRA approved class legal cranks as well as stock stroke and several different length stroker cranks for these high performance Gen III Hemi engines. Cranks listed here are for use in the Mopar, Chrysler, Dodge 5.7L, 6.1L and 6.4L Hemi engines which are also referred to as the Generation 3 Hemi.
Molnar Technologies superior forged steel crankshafts are extremely strong, precision machined high performance parts and can be used in everything from a high performance street car or truck to all out competition cars, trucks, boats and more. A wide variety of displacement sizes can be built using these cranks as the foundation for a 5.7 Hemi stroker kit, 6.1 Hemi stroker kit or 6.4 Hemi stroker kit.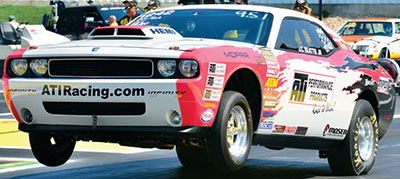 Check out the many premium features included with each Molnar 5.7, 6.1, 6.4 Hemi crankshaft and order today to get started on your next engine project. We also sell a large selection of Molnar Technologies H beam connecting rods for the Gen III Hemi engines that are the perfect match for your new crankshaft. Click here> Gen 3 Hemi Connecting Rods to view the available sets.
Molnar 6.4, 6.2, 6.1 and 5.7 Hemi Crankshaft Features
4340 forged premium steel construction
Nitrided main and rod journal surfaces for superior wear resistance
Multi stage heat treatment
Precision machined to extremely tight tolerances
Material properties are monitored closely to insure optimum performance
Counterweight placement designed for improved crankshaft performance
.125" radius on both the connecting rod and main journals for increased strength
Precision ground and micro-polished journals
Chamfered oil holes for improved oiling
Indexed for correct stroke
Excellent choice for any Gen 3 Hemi stroker kit
These crankshafts will fit Chrysler and Dodge, 5.7 liter, 6.1 liter, and 6.4 Liter Gen 3 Hemi engines. The main difference in these 3 engines from the factory is the cylinder bore size and crankshaft stroke.
4340 Forged Steel 5.7, 6.1, 6.4 Hemi Crankshaft Specs
Stroke Crankshaft stroke length in inches
Notes Additional information about specific applications
Pin Crank rod pin / rod journal diameter in inches
Main All of these cranks use the stock main journal size of 2.559"
Min Rod Recommended minimum rod length in inches
Bob Approximate bob weight in grams

Molnar Gen 3 Hemi Crankshafts
Part # and Price
Stroke
Notes
Pin
Min
Rod
Bob
345-3593JB6F

3.593
Chrysler Drag Pack 5.7 Hemi Crank
with 2.100" rod pins (**NHRA Approved**)
2.100
6.000
1700
345-3795JB6F

3.795
3.795" stroke with 2.100" Rod Pins (**NHRA Approved**)
2.100
6.000
1700
345-3900JA6F

3.900
3.900" stroke with 2.000" rod pins
2.000
6.125
1700
345-3900JB6F

3.900
3.900" stroke with 2.100" rod pins
2.100
6.125
1700
345-4000JB6F

4.000
4.000" stroke with 2.100" rod pins
2.100
6.125
1700
345-4050JA6F

4.050
4.050" stroke with 2.000" rod pins
2.000
6.125
1700

345-4050JB8B

4.050
Extra Heavy Duty billet steel crank with 8 counterweights. 2.100 rod pins for use in brutal high output applications.
2.100
6.125
1700
345-4080JA6F

4.080
4.080 stroke with 2.000" rod pins
2.000
6.125
1700
345-4250JA6F

4.250

4.250 stroke with 2.000" rod pins

NOTE: This 4.250 stroke crank is NOT recommended for use with boost or nitrous.

2.000
6.125
1700
Mopar Chrysler Dodge Gen III Hemi 5.7L, 6.1L, and 6.4L Hemi Reluctor Ring
There are several names people use for this part but they are all referring to the same item. They are known as a reluctor ring, reluctor wheel and also some call it a Hemi tone ring.

The important factors are that your crank uses a 4 bolt mount and that you select the proper part number to match the tooth count and year of your vehicle computer so your engine will run correctly.

NOTE: These Molnar Gen 3 Hemi reluctor wheels are made specifically for use on Molnar Technologies crankshafts but they can be used on OEM stock cranks which have the 4 bolt mounting pattern. If you choose to use one on a stock crank we strongly suggest you have the balance checked to make sure it matches the stock tone ring you are replacing.

Part #
Description
MRR-32

This hemi reluctor ring is the correct one to use with Molnar Technologies Gen III Hemi cranks in engines requiring a 32 tooth reluctor. It uses a 4 bolt attachment which is the same as the OEM Chrysler 6.1 crankshaft. The 2003 – 2008 5.7 and 6.1 used the 32 tooth wheel.

MRR-60

If you are using a Molnar Technologies Gen3 Hemi crankshaft in your 2009 – 2012 model vehicle with a 58 tooth hemi reluctor wheel, this is the correct tone ring for you. (NOTE: Some people count the teeth on the 2009 and later as 60, but difference is only in how people count the large teeth, so even though some people say 58 and some 60, they are both the same reluctor)

MRR-6013

2013 and Newer:

Chrysler / Dodge changed the OEM Hemi reluctor wheel and engine management system in 2013. If you are using a Molnar Gen 3 hemi crank and working with a 2013 or newer vehicle then this is the proper 58 tooth reluctor ring to use.
Crankshaft Timing Gear Spacer for VVT Engines
If you will be installing your new Molnar crankshaft in a VVT engine you will need a spacer to maintain the proper alignment of the timing chain gears. This spacer is only required for Gen 3 Hemi engines equipped with the variable valve timing system. In order to make room for the VVT system, Chrysler had to space the cam gear out from the block to make room for the VVT mechanism. These spacers are not normally included in any of the off the shelf 5.7 Hemi stroker kits but they are available for purchase separately as required.




Part #
Description
ARR-DH

Hemi Gen 3 VVT engine crank spacer
5.7 6.1 6.4 Hemi Crankshaft Balancing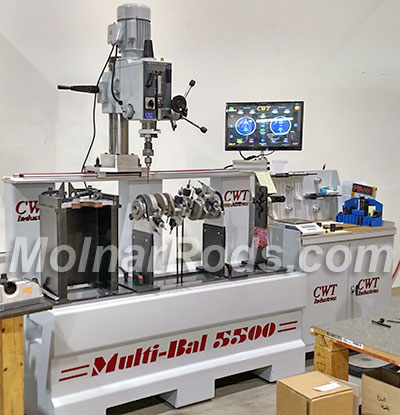 We offer balancing of any of the Molnar Hemi Gen 3cranks listed on this page as an optional service, for an additional charge. Balancing is only available if you are also purchasing the matching Molnar connecting rods. If you are interested in having a crank balanced before shipping please contact us and we will be happy to help. We will need to know the weights of one piston, wrist pin, pin locks, piston rings and rod bearing that you plan on using in order to provide this service for you.
Looking for a different spec crank?
If you do not see the Gen III Hemi 6.4, 6.1 or 5.7 Hemi stroker crank you need on this page please contact us for assistance. New models are constantly being added to the Molnar Technologies product line so we may have cranks available that have not been added to our website database yet.