Molnar Technologies H Beam Suzuki G13 connecting rods are machined from billet 4340 steel, and then heat treated to provide improved strength. To make the rods even stronger, they are shot peened which also increases fatigue life. All Molnar G13 rods are fitted with highly durable premium bronze bushings for use with floating pin type pistons. Each rod set for the G13 engine includes ARP fasteners, lubricant and installation guidelines.
All Molnar G13 conrods are finished in the United States at the Molnar Technologies shop in Michigan. Critical rod dimensions are are held to very precise tolerances of +/- .0001 of an inch, which is the tightest tolerance you will find in the performance and racing aftermarket. These rods are an excellent upgrade component for street, high performance and racing G13 engines.
H Beam G13 Connecting Rods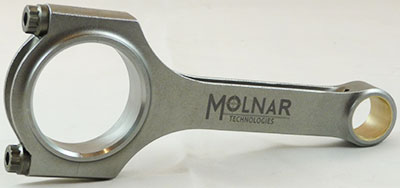 Molnar Suzuki G13 Connecting Rod Specs Part Numbers and Application Info
Length Length of the connecting rod, as measured center to center, in inches.
Notes Additional information about specific applications
Wt Weight in grams, of one complete connecting rod assembly
Bolt Size 3/8 diameter Rods come with ARP2000 fasteners installed
Jrnl Crank rod journal diameter
Pin Piston pin diameter, in inches or millimeters
BE Width of the crankshaft end of one rod
PE Width of the piston end of one rod
Part Number Molnar Technologies Connect Rod set part number
Price The price shown is for a complete set of rods for the engine.
Part Number
Length
Notes
Wt
Jrnl
Pin
BE
PE

Suzuki G13 Engine Rods

SZH4724BBB4-A

4.724
G13
435
Stock
19mm
0.854
0.854
If you did not find the Suzuki engine conrods you need, please contact us for assistance. New models are constantly in development so we may have piston rods available that have not been added to this site yet.