We have an assortment of Mitsubishi 4gG63 crankshaft models to choose from and new parts are constantly under development for addition to the Molnar Technologies line of premium 4G63 lightweight crankshaft offerings. We have a selection of different length stock and 4G63 stroker crank part numbers available for these popular high performance Mitsubishi engines. The available stroke lengths are the stock 88mm stroke, stroker crank lengths of 94mm, 97mm and 100mm. This gives you several options for building a stock or longer stroke version 4G63 stroker engine.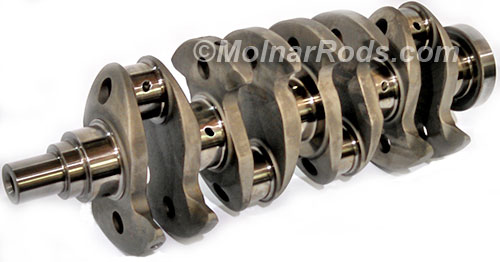 Molnar Technologies superior 4340 steel billet 4G63 crankshafts are extremely strong, precision machined high performance parts and are ideal for use in high performance street cars and trucks, engine swap project, and oval, road racing, rally racing, drifting and other competition vehicles. A wide variety of displacement sizes can be built using these cranks as the foundation for a Mitsubishi stroker kit. These 4G63 crankshaft models are an excellent choice for use in building a high output, dependable 4G63 engine powered vehicle.
Check out the many premium features included with each Molnar 4G63 crankshaft and order today to get started on your next engine project. Check out our selection of Molnar connecting rods also and get a set of rods that will be the perfect match for your new stock stroke or 4G63 stroker crankshaft.
Molnar 4G63 Crankshaft Features
4340 billet steel construction
Nitrided main and rod journal surfaces for superior wear resistance
Multi stage heat treatment
Precision machined to extremely tight tolerances
Material properties are monitored closely to insure optimum performance
Counterweight placement designed for improved crankshaft performance
.125" radius on both the connecting rod and main journals for increased strength
Precision ground and micro-polished journals
Chamfered oil holes for improved oiling
Indexed for correct stroke
Molnar 4G63 Stroker Crank Specs

Stroke Crankshaft stroke length
Desc Additional information about specific applications
Pin Crank rod pin / rod journal diameter
Main Main journal size

Part # and Price
Stroke
Desc
Pin
Main

M8804G63-L

88mm
Lightweight 4G63 stock stroke crank
stock
stock

M9404G63-L

94mm
Lightweight 4G63 stroker crank
stock
stock

M9704G63-L

97mm
Lightweight 4G63 stroker crank
stock
stock

M10004G63-L

100mm
Lightweight 4G63 stroker crank
stock
stock
If you do not find the 4G63 crankshaft you need, please contact us for assistance. New models are constantly in development so we may have Mitsubishi crankshafts available that have not been added to this website yet.